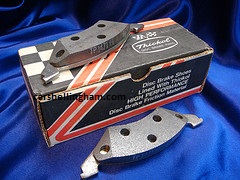 Your Car needs Brake's

Braking is a very important action in your vehicle. The brake pads must be maintained at a certain depth to allow the brakes to function properly. Usually people neglect the brake pads until it is too late and extensive damage has been done. There are 10 things you should know about brake pads to keep you car brakes functioning properly.
Things To Know About Brake Pads
Brake pads have a ware indicator device built into them that squeeks to alert the driver to change them.
they will squeel constantly not just when you are using them.
Ceramic, low-metallic, nonasbestos organic, and semi-metallic are the four general types of brake pads.
All brake pads come in a set of 2 for either the rear or front.
Cheap brake pads wear out faster and leave dust on the front wheels.
Expensive brake pads leave less dust but are prone to squealing.
Some brake pads contain asbestos.
Brake pads should be replaced if they are less than 1/4 inch in depth.
Brake pads are basically steel plates with a high friction material on the face.
Front brake pads are changed more often than the rear brake pads.
Brake Systems:
Brake Systems:
There are two kinds of brake systems: disc brakes and drum brakes. Disc brakes are the most common system in use today, and they're very much like the hand brakes on a bicycle. When you step on your car's brake pedal, the brake pads squeeze a spinning disc rotor that's attached to the wheel. The resulting friction, when applied to each of the wheels, slows the car.
The second type, drum brakes, involve brake shoes that push out against a spinning brake drum, which is attached to the wheel. This friction slows the car.
Both systems work by creating friction, so brake parts are expected to wear out. The questions then are, how worn out are they? And are they worn out enough that they need to be replaced?
That's what this service is all about — checking these components for wear and other potential problems.
Why do I have to do this?
In short, you do this service so you don't crash into a cabbage truck. So your family will be safer.
What happens if I don't do this?
If you neglect your brake pads and shoes, your brakes will ultimately fail. Even before that happens, however, you can cause damage to other, more expensive brake parts, such as rotors, drums and calipers. In other words: a stitch in time ... saves you from helping your mechanic with a boat payment later on.
CARS = Complete Auto Repair Service 
Hwy 191 / 6
www.carsbellingham.com
http://www.facebook.com/CARSbellingham ;
660 E Main St. Wellington Utah
(435) 637-5337
MAP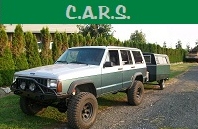 North of Moab
South of Price, Helper, Ogden, Salt Lake City Utah