| | |
| --- | --- |
| Posted by D on June 15, 2022 at 4:45 PM | |
CARS = Complete Auto Repair Serive
http://www.facebook.com/carsbellingham
www.carsbellingham.com
Hwy 191  / 6      Next to Post Office
660 E. Main St.  Wellington Utah  84542 / Carbon County
(435)  637-5337
How to pick a service center.
1) Do your homework before taking your vehicle for service: I know, we all hate home work and don't have time but it will save you heart ach in the end.
So, Shop around before you need one. you will make a better decision when your not rushed.
1) Ask Friends + Word of mouth
2) Look for vehicles of equal value
3) Good equipment
4) Is there evidence of qualified technicians? diplomas, certificates, advanced training, ASE
5) Start with a simple job = oil change, wiper blades, batterie.

2) Once you choose a Repair Shop ...
1) Discribe symptoms or supply a written list of recent problems.
( sounds, vibrations, odors, lights, change in engine performance or handling, braking, steering...)
2) Don't rush for an on the spot diagnosis.
Ask to be called for costs, course of acton. ( Don't forget to leave a phone number / e-mail )
3) Understand shop policies about = Labor rates, guarantees, and payment methods.

3) Follow - up ...
1) Keep GOOD records: All Service and repair paperwork!
2) Reward good service with repeat business. This also establishes a relationship.
3) If the service was not all you expected. - Don't rush to another shop.
( discuss the problem or issue with manager or owner. Give them a chance to resolve the problem.)
A Reputable shop will value there customers feedback & try to make things right.
Happy Trails To You Complete Auto Repair Service = CARS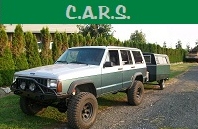 North of Moab
South of Price, Helper,  Salt Lake City, Ogden, Provo UT